Jr. High Football Practice has been canceled due to smoke. Practice will resume Tuesday at 3:00 PM.

Saturday's football game at Gilchrist will start at 11 am instead of the originally scheduled 1 pm start. This was due to smoke and heat concerns. Gilchrist would also like to let people know that they will be providing hot dogs to people who attend. Masks will also be required for people who are not socially distanced.

Hello Riddle Irish! We are still registering at Riddle Jr./Sr. High School. We will be registering on 8/26, 8/30, 8/31, 9/1, and 9/2 from 8am-2pm. Please call 541-874-2251 to pick-up and drop-off registration materials so we can come out and assist you. We would invite you into the building, but we are still under construction in the upper wing where the offices are located. GO IRISH!

Dear Riddle School District Community, Thank you for your patience and understanding as we work together during this challenging time. We are writing today to inform you of some updated dates for the start of school. Due to a seismic retrofitting project, Riddle Junior High and High School will be delaying the first day of school until Tuesday, September 7 for 7th graders and Wednesday, September 8 the 8th-12th grades will begin. Due to Covid-19 exposures within the district, the elementary school will be delaying the start of their school year to Monday, September 13. If you have any questions regarding your student's school schedule, please call the school office. Upon in-person instruction, we will follow and maintain the Oregon Health Authority and the Oregon Department of Education guidelines; namely practicing handwashing, physical distancing, cleaning and disinfecting protocols, along with requiring people to wear facial coverings while inside buildings. When appropriate, we will conduct health screenings. We will continue to keep updated on guidelines and communicate those guidelines to our community. We realize this information is difficult, but I feel it is important for you to be informed about what is happening. Your support means so much. Thank you. Sincerely, Dave Gianotti Riddle School District Superintendent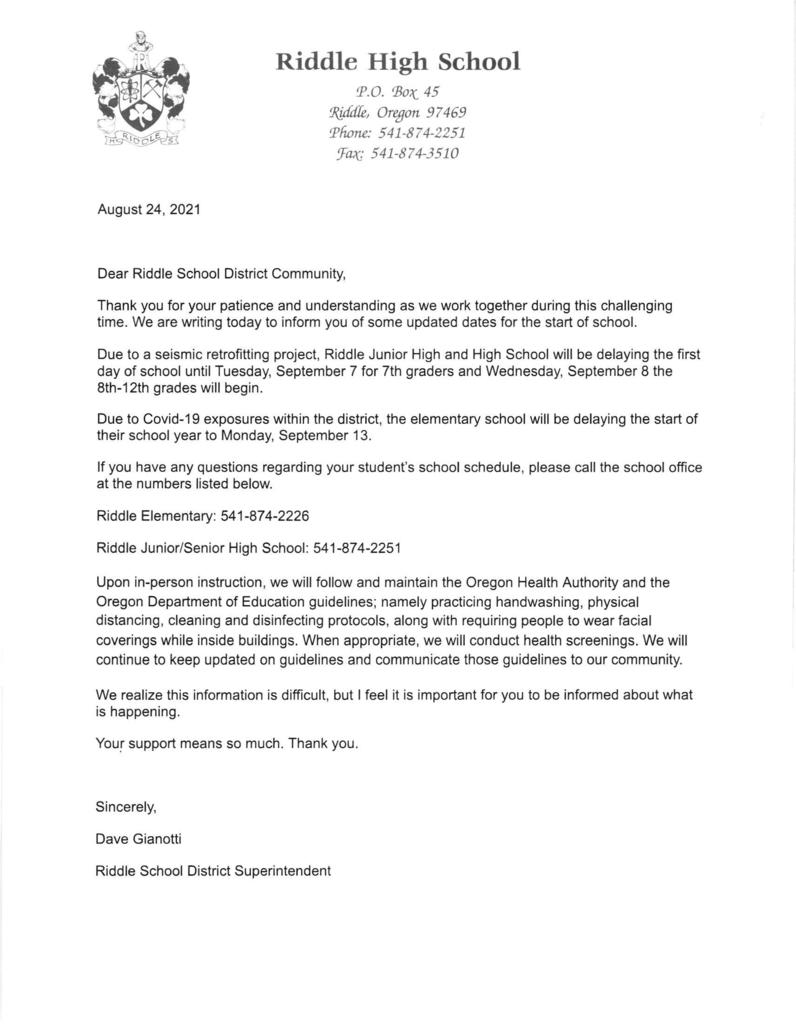 Hello Riddle Irish! Reminder, we have registration going on. Tuesday 8/17 1pm-3pm and Wednesday 8/18 8am-noon and 1pm-3pm. Also, all out of district students need to fill out transfer paperwork with their home district and get approval from our superintendent before registering. Go Irish!

Invitation to Join Riddle High School Volleyball (first team practice is Monday, August 16 in the RES gym at 6 p.m.) from Head Coach Shantelle Weakley: Our volleyball season is right around the corner, and I wanted to reach out to personally invite you to join our team and give you some important information and dates about our upcoming season. Regardless of your experience or skill level, I welcome you. We will be focusing this year on building our skills and strengthening the team atmosphere, so if you are ready to (1) make the commitment to volleyball, (2) bring intensity, focus and energy to practices, and (3) demonstrate enthusiasm on the court, we will be thrilled to have you in the program. Building a successful team requires good leaders among the players. I will be relying on our returning players to establish a fun but focused culture among our group of new and returning athletes. Like any competitive event, you should anticipate ups and downs over the course of the season. We want to maximize the ups and minimize the downs. To do this, I will expect that each player demonstrates both good leadership and support, makes developing resilience a team goal, and seeks opportunities to build camaraderie among all teammates. Our first team practice is this coming Monday, August 16, 2021, from 6 to 8:30 p.m. While our high school gym is undergoing construction, we will be practicing in the elementary school gym. The elementary hallways are closed due to waxing, so you will need to enter through the back locker rooms closest to the elementary cafeteria/locker rooms/primary wing playground area. The easiest access is through the back parking lot by DR Johnson Lumber Company. I also want to point out, especially to our incoming freshman, because not everyone is aware, that high school fall sports begin before school actually starts. Our first competition is at the Glendale Jamboree on Friday, August 27, and our first game is on the first day of school on August 31 at Pacific. OSAA requires that volleyball athletes participate in a minimum number of practices before being able to play in a contest. Sports physicals are required every 2 years, so if you are due for one, please make sure you have it as soon as possible. I will hand out athletic packets during practice on Monday, and we will need for you to have them filled out and returned quickly. Be sure you sign up with our team on the Remind App to be informed about team events and announcements. Text @riddlevb to 81010 and you'll be added to the list! You can also sign up to be a member on our Riddle Irish Volleyball Facebook page found at
https://www.facebook.com/riddleirishvolleyball/
and our private team Facebook group, search for Riddle Girls Volleyball. If you have any questions, please do not hesitate to reach me through REMIND, or you may text, call, or email me. I look forward to meeting you all at our first practice on August 16. Shantelle Weakley (Cell: 541-784-8405 - Email:
shantelleweakley@charter.net
)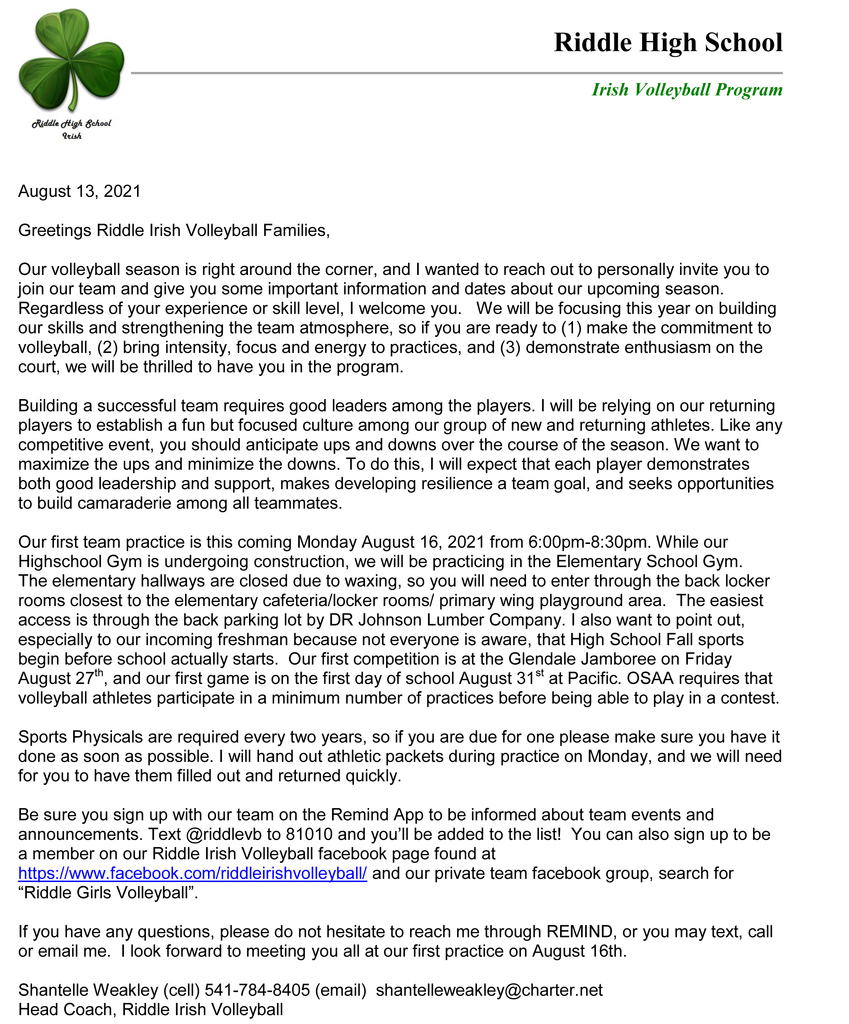 Greetings! As most of you have heard, Riddle will be opening up in-person this fall, K-7 starting on Aug. 30, 8-12 on Aug. 31. Currently all staff/students are mandated by State law to wear masks indoors during school hours and while on buses (no masks required outdoors). Riddle will not be offering on-line options this year (due to 70% fail rate). If online options are preferred, speak to the building office for options. We are excited to be open this fall and while the masks are inconvenient, they are a small price to pay for our students being here in-person. Stay positive, safe, and kind.

Hello Riddle Irish! The attached image has information about our football program. ARE YOU READY FOR SOME FOOTBALL? Go Irish!

Riddle Elementary School will hold registration from August 10 (today) through August 12 from 8:30 a.m. to noon and from 1 to 3 p.m. Any new students should bring proof of residence. Incoming kindergartners should also have a birth certificate and immunization record. If you have any questions, please call 541-874-2226. There will be some backpacks available for free. Riddle Jr./Sr. High School will hold registration on August 17 and 18 at the Riddle School District office (due to seismic construction at the high school) from 8:30 a.m. to noon and from 1 to 3 p.m. For any junior high and high school registration questions, please call 541-874-2251.

Fall youth sports registration pages are live for soccer grades preK-8 and volleyball grades 3-6! The deadline for soccer is August 15, and the deadline for volleyball is August 20. All information including links to registration forms and online registration can be found at
www.southcountyathletics.com
. You can also find information at
www.riddle.k12.or.us/page/youth-sports
.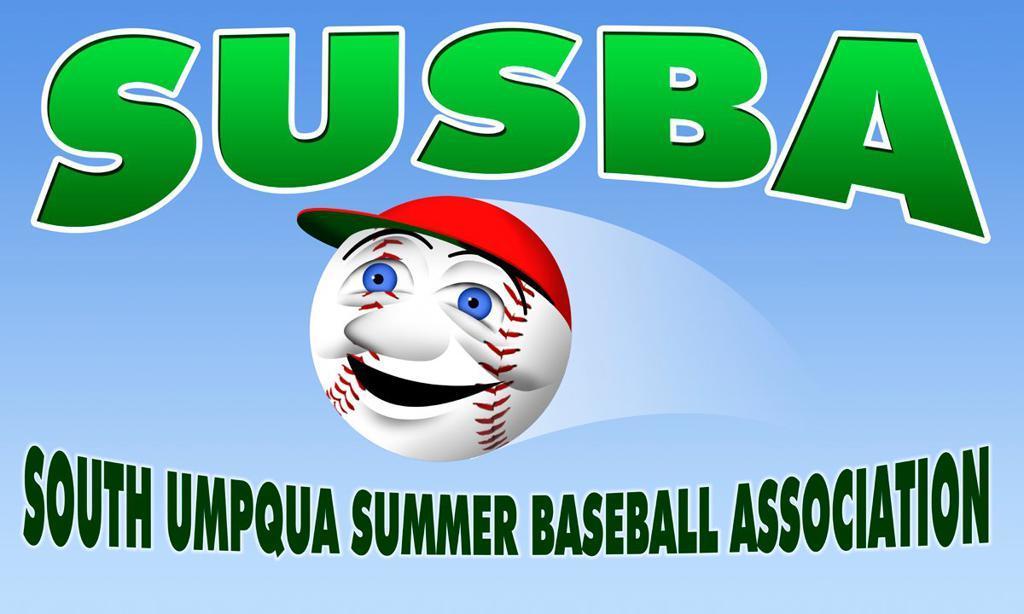 Our Riddle Jr./Sr. High School Summer School field trip to the coast has been amazing! We are leaving Florence shortly and should be home early—around 7:30 p.m.

Riddle Jr./Sr. High School Summer School students attending the field trip on Thursday, July 29, should return their parent/guardian-signed permission slips tomorrow, July 28. We are missing more than 20 signed forms from our students! We don't want our students to miss out on our fun coastal trip later this week. Those not attending the field trip will still have summer school that day. Call Ms. Scott if you have any questions: 541-991-8291

Hello Graduates: Your graduation flash drives are ready. Directions: on Tuesday 7/13/21 go to the doors across from Mrs. Amela's room and go to room 17 where the SPED rooms are and get your flash drive from Ms.Scott. Please do not go near the breezeway or the upper building because Seismic construction is ongoing. Go Irish!


Riddle Irish Baseball Program Awards for the 2021 Season: Justin Jenks was voted "Most Valuable Player" unanimously by his teammates. The Douglas County coaches selected Justin to be on the All-League 2nd Team. Justin also won two awards for his play during the season: The "Top Offensive Player of the Year" for accumulating the most offensive production points and the "Top Base Running Award" for his very aggressive and successful base running. Zane DeGroot was given "Honorable Mention" by the Douglas County baseball coaches. Zane also won the "Bat Award" for consistently socking Riddle's hardest hit balls. He was the Riddle Team Captain. Konrad Pinch was voted the "Most Improved Player" by his teammates. Cauy Jackson received the "Best Throws Award" for strong and accurate throws. Rhyse Williams and Jackson Williams were co-winners of the "Glove Award" for making excellent catches while on defense. Neston Berlingeri was selected by his teammates as the "Most Inspirational Player." Riddle Letters were awarded to all of these award-winning players (listed above). Also receiving varsity letters for each being on the starting line-up one or more times were: Hunter Buchanan (senior); Kellen Canty and Chase Greer (juniors); Keith Gaskill, Tyler Jones, and Daykotae McAvoy (sophomores); and Wyatt Geiger and Tateum Peters (freshmen).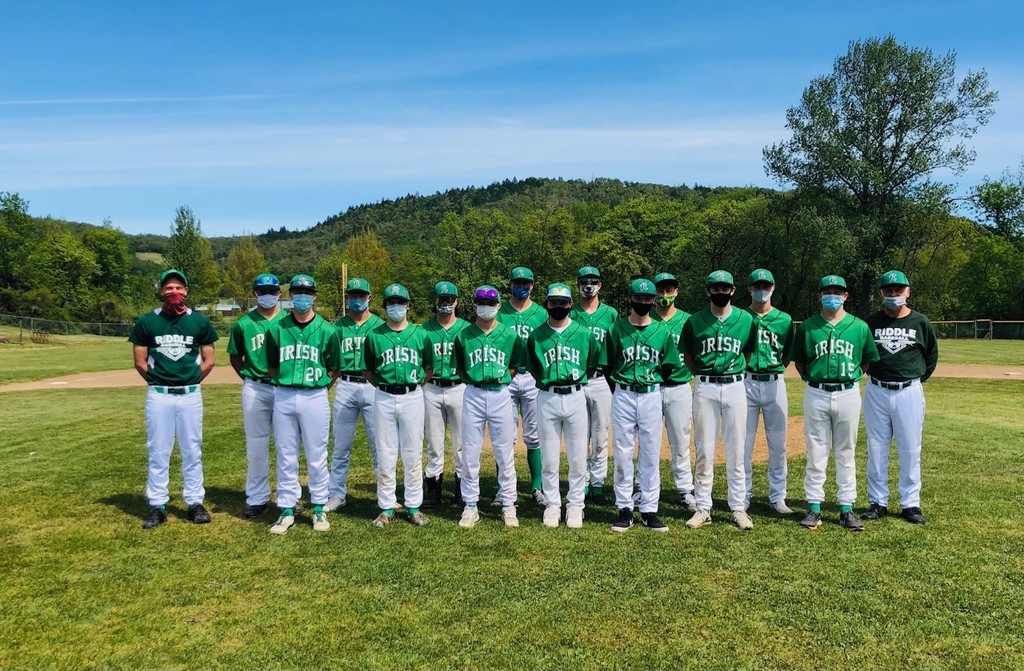 All junior/senior high school summer-school participants riding the bus should have received a call by now with times. If you need clarification, please call Bev Scott at 541-991-8291. We start our summer programs on Tuesday at 8 a.m.

Summer School for Riddle Jr./Sr. High School begins Tuesday, July 6, and will run through July 30 from 8 a.m. to 1 p.m. Tuesday through Friday. Summer school is all in-person (there is no distant learning option). Students need to be present to participate. More information to be provided next week.

Here is the updated calendar for Riddle School District for the 2021-2022 academic school year.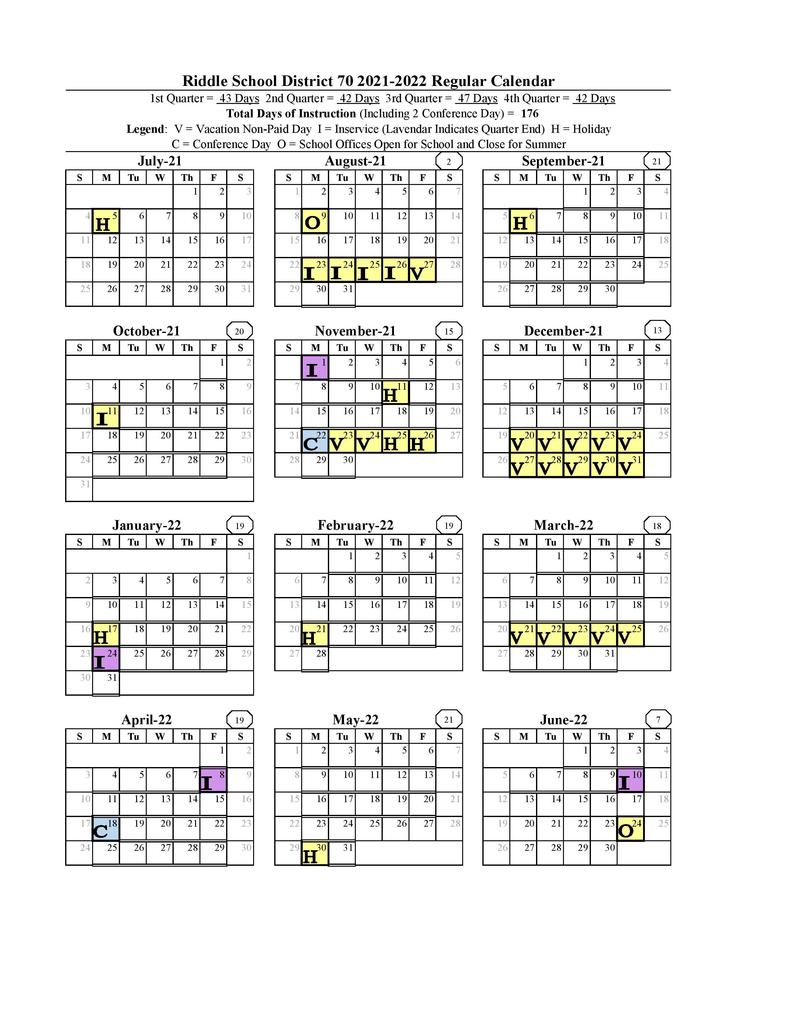 Here are the release times for students tomorrow, Thursday, June 17. RES students are being release at 11:20 a.m. RHS students will have a staggered release and check-outs may go faster than listed. Juniors: 10:30 a.m. Sophomores: 10:45 a.m. Freshman: 11 a.m. Eighth: 11:15 a.m. Seventh: 11:30 a.m. There is a junior high assembly at 10:20 a.m. RHS lunches will be provided to students once they have checked out.

Hello Riddle Irish! All Junior High and High School students need to turn in their Chromebooks by tomorrow at 11:30am. GO IRISH!